Schedule of Events
Eleventh Annual Poetry/Arts Festival
May 31 – June 2, 2018
Want a printable version of this schedule? Click here to download a PDF.
Pre-Festival Public Events
Wednesday May 23: Extendicare poetry reading (2:00 pm)
Thursday May 24: Northdale Manor poetry reading (2:00 pm)
Friday May 25: Temiskaming Lodge poetry reading (11:00 am)
Tuesday May 29: Linda-Bea Chambers hosts a poetry/music concert at the Temiskaming Hospital (7:00 pm)
Wednesday May 30: Cobalt St. Pat's School local poets visit (1:00 – 2:00 pm)
Main Events
Thursday May 31:
Bilingual Twist event at the Presidents' Suites Lumber Baron's House is cancelled due to the Temiskaming & Area Chamber of Commerce annual dinner/awards. Long time festival volunteer Vivian Hylands Hostetler, who passed away last year, is receiving a posthumous CJTT lifetime achievement award. Many of her friends, fellow volunteers, and her daughter Valerie will be in attendance.
League of Canadian Poets Poet in Schools program with Honey Novick doing workshops at Temiskaming District Secondary School. A Francophone poet (to be announced) will visit secondary school ESCSM and E.C. St-Michel.
Friday June 1:
Honey Novick continues workshops with New Liskeard Public School and St. Patrick School, Cobalt.
A Francophone poet (to be announced) will visit Navigateurs and E.C. Ste-Croix.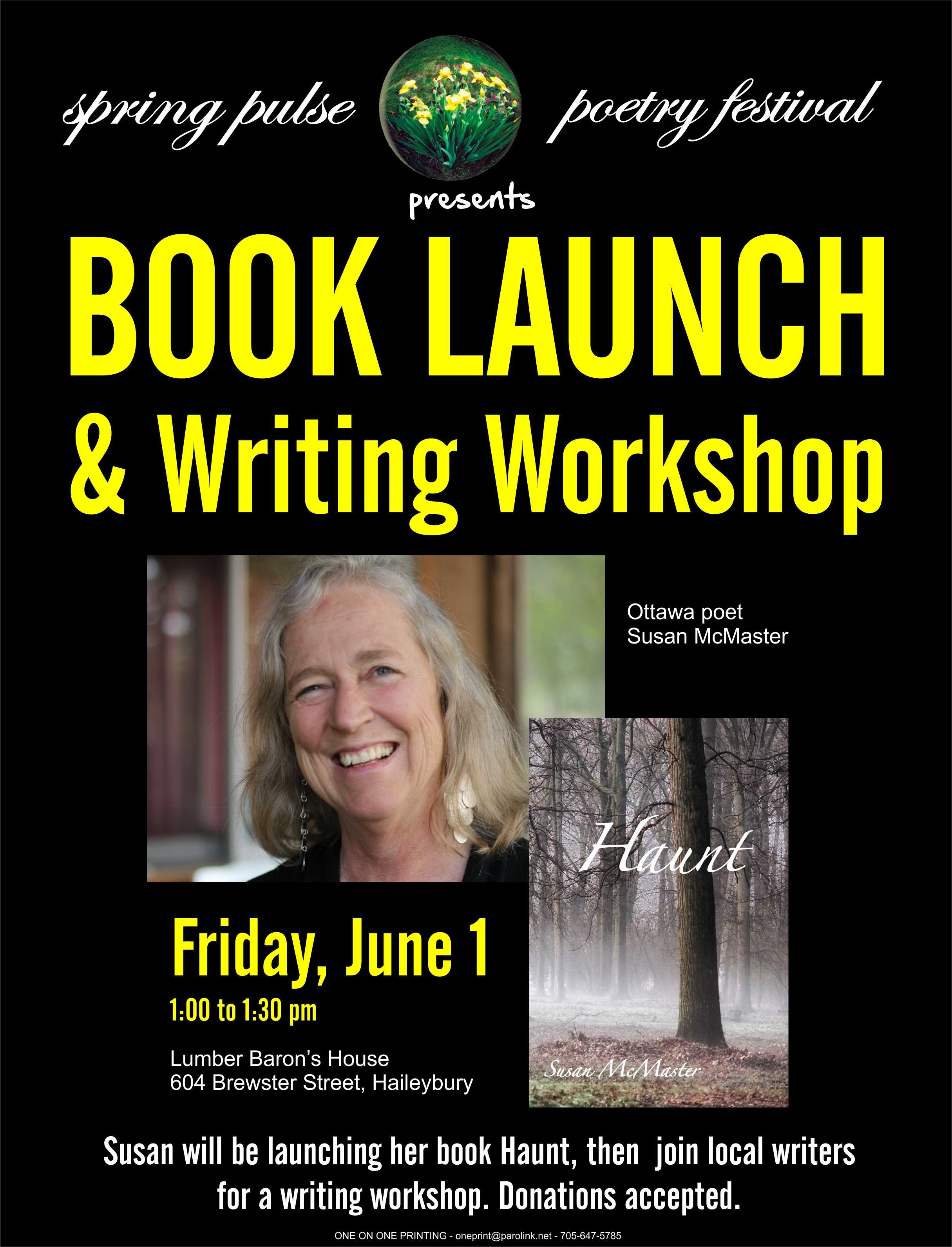 1:00 pm — Ottawa poet Susan McMaster launching her book Haunted at Lumber Baron's House, 604 Brewster Street Haileybury that will be followed by a writing workshop.
7:00 pm — Paul Penna Cobalt Public Library. Poet Laureate re-induction of Ann Margetson. Volunteer of the Year award Emma Laughlin.
Drummond Hour with selected readings of his poetry followed by Dr. William Henry Drummond Poetry Awards Ceremony.
Dr. Drummond's ghost is rumoured to be roaming the festival.
Saturday June 2:
Mezzanine Gallery Classic Theatre Cobalt 30 Silver Street
10:00 am — Ontario Poetry Society (TOPS) Cobalt Branch Annual Meeting, open mic/music event. All are welcome to bring a favourite poem, read one of your own, or sing/play music. Refreshments will be available.
12:00 pm – 1:00 pm — Luncheon compliments of the library board Paul Penna Cobalt Public Library.
1:00 pm — YOUTH POETS SPRING YOUR WORDS!! Jim Sargent Poetry Awards 2018
Poetry Hall of Fame induction of Marvyn Morrison
2:00 pm — Haileybury Legion Pipe Band will lead us on a poetry parade to the Dr. Pollard Poetry Park, 18 Grandview Avenue.
Marilyn Chevrier-Wills, Timiskaming First Nation elder/teacher with her husband John Wills plus drummers Carole and Karen will perform a welcoming song/opening prayer ceremony.
White Dog of Cobalt yellow ribbon remembrance event against animal abuse or cruelty. Followed by an Open Mic poetry/music/storytelling by the gazebo.
5:30 pm — St. James Anglican Church of Cobalt Spaghetti Dinner corner of Nickel/Prospect Ave. $15. See Emma Laughlin for tickets at 705–679–8636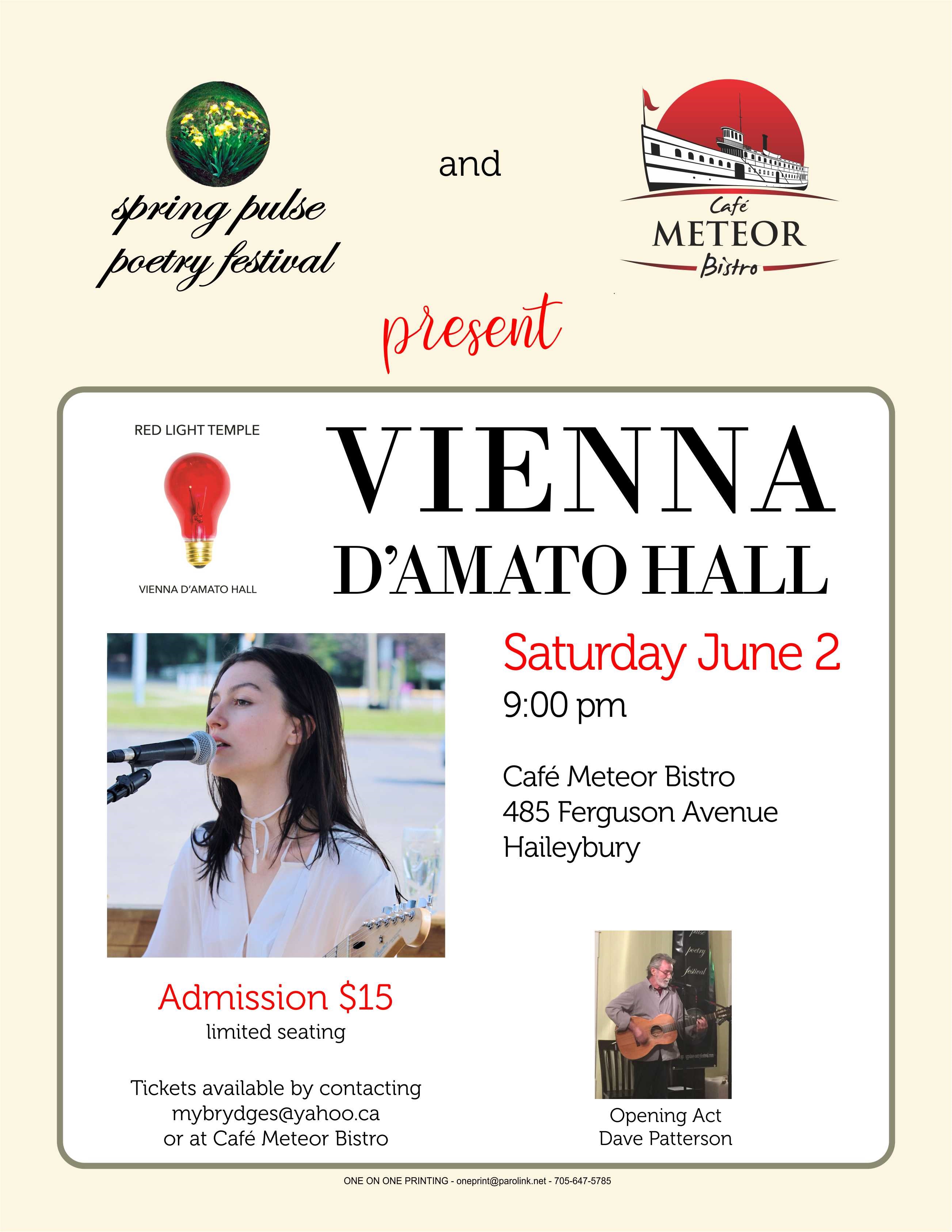 9:00 pm — Café Meteor Bistro, 485 Ferguson Ave., Haileybury Saturday evening music show, Vienna D'Amato Hall will be our featured musician. Dave Patterson is the opening act. Admission is $15. Limited tickets can be purchased at the Bistro or email Dave at mybrydges@yahoo.ca
Sunday June 3:
10:00 am — Poets/friends farewell brunch Café Meteor Bistro, 485 Ferguson Ave., Haileybury
WELCOME — BIENVENUE — KWE KWE