Schedule of Events
Tenth Annual Poetry/Arts Festival
April 20 – 22, 2017
Want a printable version of this schedule? Click here to download a PDF.
Pre-Festival Public Events
Wednesday April 12: Northdale Manor poetry reading (2:30 pm)
Thursday April 13: Extendicare poetry reading (2:00 pm)
Thursday April 13: Temiskaming Lodge poetry reading (3:15 pm)
Tuesday April 18: Linda-Bea Chambers hosts a poetry/music concert at the Temiskaming Hospital (7:00 pm)
Wednesday April 19: Cobalt St. Pat's School local poets visit (1:00 – 2:00 pm)
Main Events
Thursday April 20:
StillPoint Writer's Workshop at the Lumber Baron's House with Toronto poet Kate Marshall Flaherty.1:00pm to 3:00pm Price $20 for Thursday and Friday.
7:00–8:00pm Open Mic English/French poetry readings Lumber Baron's House upstairs.
Bilingual Twist event 8:15pm at the Presidents' Suites Lumber Baron's House 604 Brewster Street Haileybury. Show begins 8:15pm for a bilingual evening of poetry and music. Featured Francophone poet Sonia Cotten and music by Danielle and Friends. Featured Anglophone poet Kate Marshall Flaherty and music by Anne Hurley, Jim Videto from Ottawa. admission free
League of Canadian Poets Poet in Schools program with Honey Novick doing workshops at Temiskaming District Secondary School and New Liskeard Public School. Sonia Cotten visiting Francophone secondary school ESCSM.
Friday April 21:
Honey Novick continues workshops with ECCS, and St. Patrick School Cobalt.
Sonia Cotten visiting Francophone schools E.C. St-Michel, and E.C. Ste-Croix.
Temiskaming Shores Public Library Haileybury Branch 545 Lakeshore Rd. S. from noon to 1:00pm Books n' Bites event with Timmins poet/writer Frank Giorno launching his book My Nation is A Train ….Wreck followed at 1:30pm with a StillPoint Writer's Workshop at the Lumber Baron's House 604 Brewster Street Haileybury with Toronto poet Kate Marshall Flaherty.
Laura Landers announcement at Laura's Art Shoppe Cobalt of the Limerick Contest winners.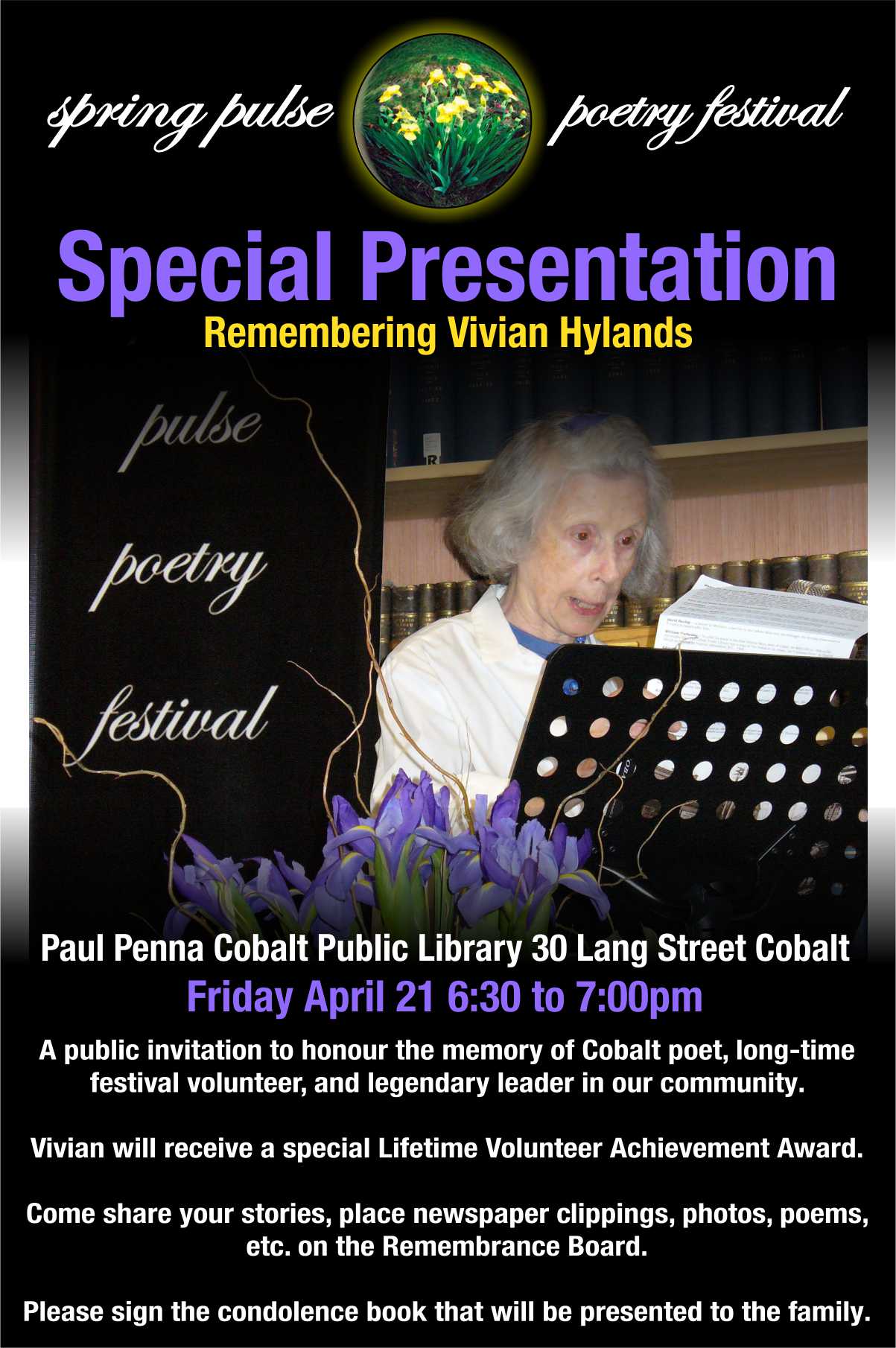 Paul Penna Cobalt Public Library 7:00 pm Poet Laureate re-induction of Ann Margetson. Volunteer of the Year award Emma Laughlin
Lifetime volunteer appreciation award for Tyna Silver.
Drummond Hour with selected readings of his poetry followed by Dr. William Henry Drummond Poetry Awards Ceremony. MC will be Kate Marshall Flaherty.
Dr. Drummond's ghost is rumoured to be roaming the festival.
Saturday April 22:
Mezzanine Gallery Classic Theatre Cobalt 30 Silver Street
10:00 am Ontario Poetry Society(TOPS) Cobalt Branch Annual Meeting, open mic/music event. All are welcome to bring a favourite poem, read one of your own, or sing/play music. Honey Novick will be our featured poet. Refreshments will be available.
There will be a luncheon compliments of the library board Paul Penna Cobalt Public Library from 12:30pm to 1:30 pm.
1:30 pm CALLING ALL YOUTHFUL POETS!! Jim Sargent Poetry Awards 2016 awards
Poetry Hall of Fame induction of David Brydges MC Kate Marshall Flaherty
At 3:00pm Haileybury Legion Pipe Band will lead us on a poetry parade to the Dr. Pollard Poetry Park on 18 Grandview Avenue.
Marilyn Chevrier-Wills Timiskaming First Nation elder/teacher is unable to attend due to a previous commitment but her husband John Wills and Betty Tobiscon will perform a welcoming song /opening prayer ceremony.
110th anniversary of Cobalt's most historic artifact the Cobalt Public School Bell re-dedication ceremony 3:30pm.
White Dog of Cobalt yellow ribbon remembrance event against animal abuse or cruelty. Followed with an Open Mic poetry /music/storytelling by the gazebo.
St. James Anglican Church of Cobalt Spaghetti Dinner 5:30pm corner of Nickel/Prospect Ave. $15 see Emma Laughlin for tickets at 705–679–8636
Saturday evening Miners Tavern Cobalt Anne Hurley and Jim Videto from Ottawa will be our featured musicians. Show starts at 9pm and admission is free.
WELCOME — BIENVENUE — KWE KWE